Is social media really that important?
Look around! Your potential customers aren't looking at billboards or listening to the radio. They're looking at their phones. Do you really want to ignore more than two billion active social media accounts? We don't, and we don't want our clients to either. Take a look at these statistics from Wearesocial.net:
Social media isn't going away - learn how to use it to your advantage. Concerned about the audience on social media? According to a survey in November 2016 by the Pew Research Center. The following are percentages of American adult Internet users, aged 18+:
Facebook is used by 79%
Instagram is used by 32%
Pinterest is used by 31%
LinkedIn is used by 29%
Twitter is used by 24%
Check out some of our latest blog posts about social media on our blog, Q Tech Files. Learn how to make social media work for you, no matter what your budget size is!
You may want to know – of the 71% of American adult Internet users on Facebook, aged 18+ – are they men, women, high school grads, college grads, age range, income level, etc: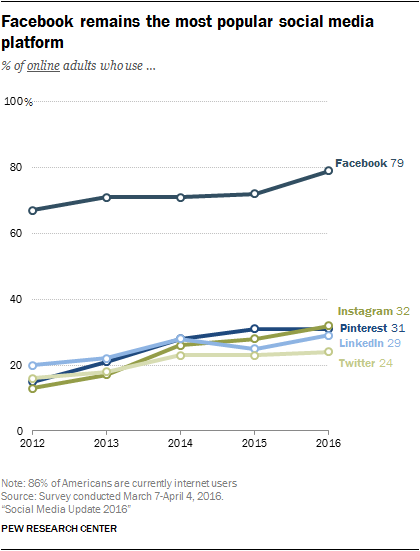 Click here to tell us who your audience is and we can tell you how to reach them!
How can you integrate social media into your website?
There are a number of ways to integrate social into your website but let's look at the top few:
Sharing buttons

Sharing buttons are a quick, unobtrusive way to allow your website visitors to share your content on social media platforms. Only offer the social media platforms that you are active on to limit on-screen clutter. This allows your website visitors to work for you - by increasing awareness of your content using their own network.
Social proof

Did you know that 84% of customers trust online reviews as much as a personal recommendation? Notice that website visitors can "Like" and "Follow" your social media profiles without leaving your website? This means they can get all the info they need from your website, and when they back to Facebook, Twitter, or other social media platforms, since they're already following you, they will now see your updates in their feed. What a way to cross-promote!
Remember, Quadsimia can help you with both of these social media integrations, just send us a quick message or give us a call!
How can you measure the results of a social media strategy?
There are two types of clients - branding clients, and conversion clients. Branding clients want to be everywhere - they don't care how much it costs or what the return on investment is - they just want everyone to know their name. However, most clients are conversion clients because every dollar counts in this day and age. Companies need to know how much it costs to acquire a new client and retain existing clients, to determine if social media marketing is right for them. There are a number of ways to track conversions but let's look at a few:
Dedicated phone number (such as Google, Twilio, Skype, etc.) - A dedicated phone number should include an online dashboard so customers can login and see how many calls they've received through their marketing campaign.
Landing page specifically built for social media traffic - with an offer and a short form with a separate thank you page.
Audience/reach on social media platforms (although engagement is a tougher measurement, it generally has more value than just audience/reach.)
Use coupon codes specific to each social media platform and track the total sales.
Email newsletter sign-ups.
Download a document.
Complete an online request for quote.
Request a demo.
Take note (and screenshots) of monumental instances that may be small in measurement but large in value (let's say Michael Jordan retweets one of your tweets!) We remember how excited we were when Olive Garden asked if they could use one of our photos on their Instagram! Or when the mayor of our city shared one of our Facebook posts! Those examples may only be one share but the influence behind them (and the resulting awareness) is astronomical!
Without measurement, how can you determine success? When you first decide to venture into social media marketing, make sure you also decide how you will determine your success.
How to choose which social media platform to concentrate on?
Did you know there are more than 500+ social media platforms/websites for you to choose from? Most people are familiar with Facebook, Twitter, LinkedIn, Instagram, and Pinterest. But what about Snapchat, Google+, Yelp, Tumblr, Flickr, Vimeo, FourSquare, MySpace, Etsy, YouTube, Behance, Foodspotting, Trip Advisor, SlideShare, etc. There are so many to choose from! Don't get caught by what's trendy right now, hire a firm like Quadsimia, to tell you where your audience is so you can get in front of them. Choosing a social media platform means researching their audiences, determining what type of content you want to share, how much time you have available (yes, different social media platforms take different amounts of time to implement and maintain), and how you are going to measure the results of your social media strategy.
How Quadsimia can help your company with Social Media Marketing:
Create a flexible social media strategy for the year
Work with your in-house marketing team
Provide professional consulting with analysis of existing accounts and suggestions
Help target your marketing budget to your specific audience
Help create one voice that leaves a lasting impression on your audience
Give you a team of professionals guarding your brand through social media
Integrate the various social media platforms into your website
Show measurable return-on-investment for social media