Download the Boilermaker App on Your Android Device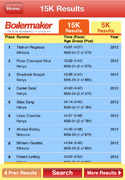 Jun. 24, 2013 —
Quadsimia has just released the Boilermaker Race Results app in the Google play Store. Now, you can get this awesome app for your Android smartphone or tablet.
The Boilermaker Race Results app lets you instantly call up race results for the world famous Boilermaker road race. The app is packed with a multitude of search filters like runner's hometown, age group, and more. You can easily find the results you're looking for in both the 15K and 5K road races. There is even a feature to search historical results so you can get your previous years' finishes.
The app was previously released on the iTunes App Store and available for the iPhone and iPad.
Contact Quadsimia today and learn how our App Development Team can help your business reach your customers.